How Our Water Jets Unclog Drains
For the Cleanest pipes you've ever seen!
Jetter Clean is the drain cleaning expert with over 30 years of experience, specializing in using water to clean drains and clear pipes. We only use water. This is 10 times cleaner and way more effective than the old, common use of snake or cable machines. Our advancing water jets propel down through the pipes, spraying the insides clean. When we are done, the hose comes out clean because the inside of the pipe is clean, giving our customers long term results. We clean all residential lines: plugged kitchen sink, backed up floor drain, wash line, or shower, clogged toilet, flooded basement, perimeter tile. We have video inspection cameras and locators to look inside the pipe to make sure it is clean and serviceable. We record this to save and share. Jetter Clean also cleans commercial lines, which is the best preventive maintenance for restaurants, clearing pipes of grease and debris buildup. We also do agricultural lines, field tile, culverts, large hog, and dairy operations.
Roots   Grease   even   Ice
We do all this with our patented JET VAN. The only van that works off the vans V8 engine giving us plenty of water power to clean large pipes, like from your house all the way to the city connection. We can also idle it down for the smaller lines, like your plugged sinks. We have 3 different sizes of hoses: small, medium, and large, with over a dozen specialized jetting nozzles. We've even developed a chainsaw nozzle for cutting out roots in drain pipes. A unique and very successful thing we do is jet through ice or frozen pipes. This is generally quicker than steaming or melting them open. We do all this with a wireless remote control for a total one man operation, saving our customers money.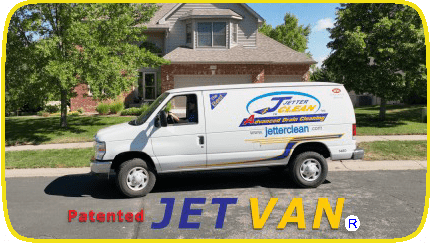 Mike is one of our most experienced drain cleaning and video pipe inspection technicians. He has been a jetting technician for over 13 years. He is a hard-working, don't-stop-until-the-job-is-done kind of guy. With his knowledge and experience, he can diagnose the problem quickly and get your drains unclogged in no time.
He's very neat and clean, putting his boot covers on and bringing in blue roll rugs to walk on. Which keeps your home clean. He enjoys helping people when they need him most.

"Jetter Clean is the best! Our basement drain was overflowing and we thought it would be a week or more for help. Jason came the next day and it took no time at all to fix the issue. He was very knowledgeable and easy to talk to. Super nice guy. Would recommend Jetter Clean to anyone (actually I do already), because this isn't the first time they've come to the rescue! Cheap amount to pay for a job well done."
"I called in the morning and was offered an afternoon appointment. Cody called to confirm arrival time and got right to work. . The camera showed rusted and corroded cast iron so the jetter system was deployed to remove the debris and smooth out the inside of the pipe. Camera showed the good results and the system was flushed out and done! With a little "expert" assistance from the homeowner, Cody was in and out in an hour. I couldn't ask for more from Cody the serviceman."
"Jetter Clean was able to come to my family's place today, same day service (wow! Thank you!) for a sink/bathtub clogged drain. We are very happy with their service, specifically, Mitch made sure to follow all the pipes from the bathroom, down into the messy basement & clean (jet) out the pipes so that everything is working great! He also showed me the functions of the pipes in the basement so we could label them. Highly recommend this business!"